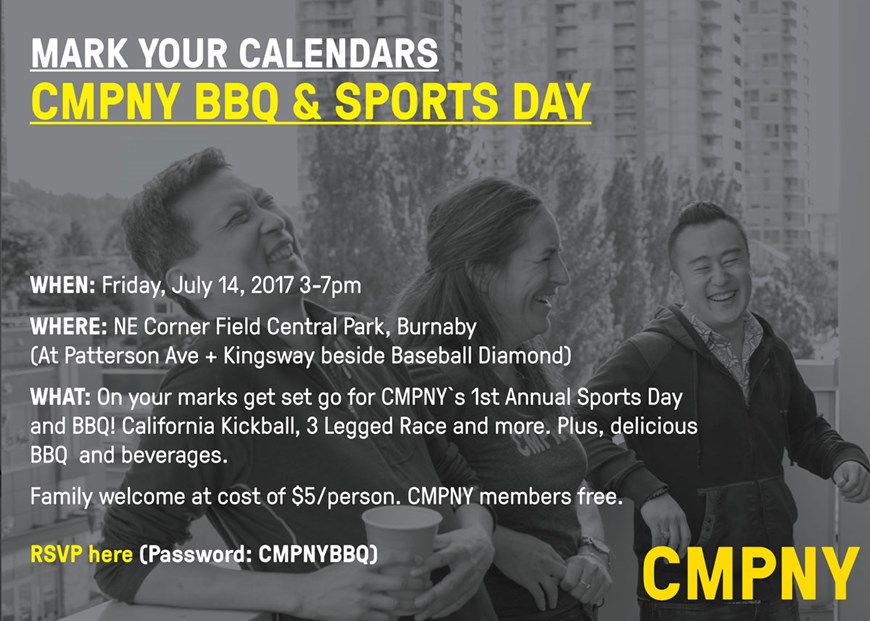 On your marks, get set go - it is time for CMPNY BBQ and Sports Day! Join us for an afternoon full of food, games and good CMPNY!
Here are some of the Classic Sports Day Games to look forward to:
3 Legged Race
Water Balloon Toss
Egg + Spoon Race
Relay
California kickball
Games to start at 3:30pm and continue throughout the event. BBQs to be fired up at 5pm!
Please bring blankets, chairs and umbrellas if you have them. We will provide snacks, BBQ (burgers + hot dogs), beverages and the games!
CMPNY members are free and family/guests are $5/each. Children welcome.
Please RSVP here (link - https://www.eventbrite.ca/e/cmpny-summer-bbq-and-sports-day-tickets-35524933031)
Get Tickets Add to Calendar 07-14-2017 15:00:00 07-14-2017 19:00:00 CMPNY Summer BBQ + Sports Day On your marks, get set go - it is time for CMPNY BBQ and Sports Day! Join us for an afternoon full of food, games and good CMPNY! 201 – 4501 Kingsway, Burnaby CMPNY Network false MM-dd-YYYY